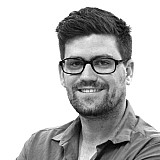 Prodrive Racing Australia is hoping to retain its four-car model for the 2016 V8 Supercars season, amid rumours that one of the Racing Entitlements Contracts that it currently uses could move to Team Penske.
Prodrive currently splits its programme across four entries; the two 'main' Pepsi Max-backed cars that Chaz Mostert and Mark Winterbottom drive, the Bottle-O entry driven by David Reynolds, and Andre Heimgartner's Super Black Racing entry.
The SBR licence, however, is currently leased from DJR Team Penske. Should Penske wish to expand to two cars next season, that would leave SBR without an entry – a situation complicated by the recent announcement that Triple Eight has won the tender to field the 26th and final entry next season.
Four cars 'ideal'
In order to continue to run four cars next season, it is likely that Prodrive will either need SBR to find itself a REC from within the current pool of owners, or donate its third REC to SBR and find a fourth licence on its own.
While hardly a clear-cut situation, Prodrive's team manager Tim Edwards told Motorsport.com that the ideal scenario is that the team continues to run four Falcons next season.
"Our ideal business model is four cars, we've long said that," Edwards said.
"Three still works, but four is the preferred number, because you've got control of your boom and things like that. But we ran three cars for plenty of years as well.
"So the ideal business model is four. We're yet to secure a deal with Super Black, but Tony (Lentino, SBR owner) is keen to do something for next year. We're just yet to actually conclude the deal.
"I think we'll know in the next month or two what we're doing next year. It won't be that long."