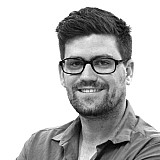 Prodrive Racing Australia has no worries over its form, despite being win-less seven races into the 2016 V8 Supercars season.
Having absolutely obliterated the field at the Grand Prix 12 months ago, Mark Winterbottom and Chaz Mostert finishing 1-2 in all four races, the former factory Ford squad struggled to run right at the front at Albert Park last weekend.
Instead it was rivals Triple Eight who took all of the spoils at the AGP, having also – on balance – been the form team at the season-opening Clipsal 500 earlier this month.
But while the early signs suggest Triple Eight is the team to beat, and that both Penske and the Holden Racing Team have made significant gains during the summer, Prodrive boss Tim Edwards says he has absolutely no concerns about his team's form.
"None whatsoever. The cars are quick and the guys are all happy with it," he told Motorsport.com.
"It's unfortunate, with the progressive grids [at Albert Park], that Winterbottom's weekend ended when Fabian [Coulthard] turned him around on Lap 1 of the first race. Had that not happened, it would have been a very different weekend.
"The same goes if Chaz hadn't run a bit wide and slipped back a couple of places. At the end of the day, it's unfortunate, but when the races are so short, and there is no strategy involved, there's not much you can do.
"[We have] no concerns at all. The guys are happy, the cars are fast, so we have no reason to be worried. It would have been a very different [weekend] result if Race 1 hadn't gone the way it went."
Edwards added that the same theory could be applied to Clipsal, where Mostert gave the team a pole position and a podium finish on Saturday, before crashing out on Sunday.
"Chaz finished on the podium, we qualified at the front, and Chaz was one of the fastest cars there all weekend," explained Edwards. "Yes he made a mistake when a bit of aero wash took him onto the water on Sunday, but if it hadn't been for that, it would have been a really good weekend."
A long championship
With a lot of focus on the intra-team battle at Triple Eight, Edwards is still confident that Winterbottom and Mostert will be able to have their say in what is shaping up to be a tasty fight for the title in 2016.
"There is nothing wrong with our car speed," he said.
"It's a long championship. I would say we were quick in Adelaide, we were quick at Albert Park – yes, we didn't get the ultimate spoils in either, but the car has been fast at both those circuits."