Get alerts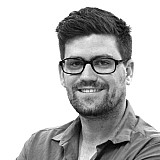 Prodrive Racing Australia will continue to be aggressive with strategy across all of its cars for today's 200-kilometre V8 Supercars race at Winton, with Mark Winterbottom saying that nobody will be compromised.
The Melbourne-based team has been unstoppable so far this weekend, with Chaz Mostert and Mark Winterbottom sharing the wins yesterday after locking out the front row for both races in qualifying.
David Reynolds has also been quick, bagging a pair of fourths from the two 60-kilometre races.
Heading into today's pit-stop race, Winterbottom says the team would have no qualms over running all three cars on the same strategy, despite that concept ultimately proving unsuccessful two weeks ago in Perth thanks to a poorly-timed safety car.
"We're not going to compromise one driver's race," he said.
"People said we were silly for doing this and that [in Perth], but we thought it could win the race.
"I want to win, [Chaz] wants to win, and so do the engineers. We'll do whatever is best. Safety cars you can't control, they are random things."
Winterbottom takes Mostert's set-up
Winterbottom admitted yesterday evening that he migrated to Mostert's set-up before going on to win yesterday's second race, after struggling to match his team-mate for pace earlier in the weekend.
"We didn't have the best day yesterday, it was pretty tough. So we put about 60 percent of Chaz's set-up in, because he was very quick. Then we got to 70 percent, 80 percent, and then we the whole thing.
"All the cars get access to the knowledge, there are no hidden secrets. That's really good, and it's showing in results as well."