Get alerts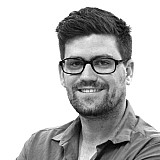 Despite Ford's withdrawal from V8 Supercars, Prodrive Racing Australia's team principal Tim Edwards says the Ford Falcon FG X is likely to live on next season.
With Ford's well-documented withdrawal from V8 Supercars racing essentially complete, Prodrive – formerly Ford's factory V8 outfit – is theoretically free to be courted by another manufacturer for the future.
However, despite its manufacturer support from Ford disappearing, it seems that Prodrive is keen to stick with the new-for-2015 FG X, currently the fastest car in the field, for at least another season.
While Edwards wouldn't go as far as completely ruling out a manufacturer switch for next season, he did tell Motorsport.com that the team has its eyes firmly on the FG X for 2016. 
"Anything is possible, but our intention is to carry on racing these cars next year," he said.
"They're competitive cars, and we've made the investment into the FG X. We need to amortise that over at least a couple of years.
"So our intention is to be racing these cars."
The team currently fields four FG Xs, with the three 'lead' cars for Mark Winterbottom, Chaz Mostert, and David Reynolds, and the Super Black Racing customer entry for Andre Heimgartner.