Subscribe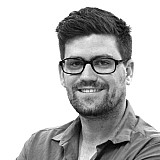 Mark Winterbottom is likely to have to wait on his new Prodrive Ford FG X chassis thanks to the team's crash-heavy start to the season.
Two heavy hits for Super Black Racing driver Chris Pither is the root of the issue for PRA. After having his primary chassis damaged at the Clipsal 500, the Kiwi switched to one of the team's Dunlop Series chassis for the Grand Prix and Symmons Plains.
But that chassis didn't quite make it out unscathed from its cameo in the main game, copping a decent hit early in Sunday's race in Tasmania after Pither tangled with Nick Percat at the hairpin.
Prodrive is now expected to switch Dunlop Series front-runner Garry Jacobson into the car that Pither crashed in Adelaide – which has now been repaired – while Pither will continue with the Tasmania car, which is being repaired now.
A knock-on effect of this game of musical chassis is that reigning V8 Supercars champion Mark Winterbottom, who was initially set to debut a brand new chassis at Phillip Island next weekend, is likely to have to wait for his new wheels.
"His new car, we're tinkering along in the background. The car is there so we just haven't made a full decision on when we roll it out, it'll be the next month or two," Prodrive boss Tim Edwards told v8supercars.com, the official series website.
"[Phillip Island] was the original target date but we've just got other stuff going on so we don't want to rush it. There's nothing wrong with his current car, so it's just one of those things.
"We need to bring it into circulation at some point but we're in no rush to. [It'll be] some time in the next month or two."