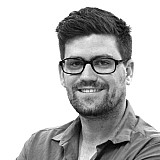 Prodrive Racing Australia boss Tim Edwards says the team's star young driver Cameron Waters is ready to make the step up to V8 Supercars.
Waters currently drives for the team in the second-tier Dunlop Series, and has a handy 118-point lead just three weekends in to the 2015 season.
It remains to be seen how and where Waters could potentially step up to the main game next season, with Prodrive's plans for 2016 still up in the air. However Edwards says that regardless of how it happens, whether it be a loan deal to another team or straight into PRA's main team, Waters is more than ready to get the job done.
"He is ready now," said Edwards. "We got lucky with Chaz [Mostert] as when he was ready we had the ability to place him at DJR for the remainder of the season.
"Unfortunately there isn't a vacancy for Cam right now but when he gets his chance he will make the most of it."
Perfect start to 2015
On looking at Waters' efforts in the Dunlop Series so far this year, Edwards describes the campaign as essentially perfect.
"Cam has been just brilliant this year," he said.
"It is actually hard to highlight an area where he has been deficient which is a real credit to him and our Dunlop Series crew.
"This is his second season with us and while finishing runner-up wasn't a poor effort, I think we underperformed in all aspects in 2014. That has obviously motivated everyone and this year we are reaping the rewards.
"I think his consistency across all areas has helped him get to the position he is in. In Adelaide we saw a great battle with [Paul Dumbrell], where they left equal on points. In Perth, Cam topped all but one session and then in Winton he went one better and topped every session and has now won six races on the bounce.
"That sort of consistency and conversion rate is seriously impressive in any category. Last year he and his crew were inconsistent and that cost us, this year we're all executing our plans and that has made all the difference."
Waters will share the #6 PRA entry with Chaz Mostert at the three main series endurance races later this year.