Subscribe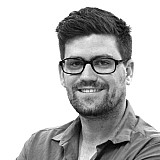 Balance is the ultimate key to lap-time around the deceptively technical Queensland Raceway circuit, according to V8 Supercars legend Craig Lowndes.
The Triple Eight Race Engineering driver has an excellent record at the Ipswich circuit, having won 11 of the 37 races he's taken part in there, and been on the podium 20 times.
Heading into this weekend's round, Lowndes is looking for his first win in Queensland since his five-race run of victories came to an end in 2012.
"We've had some great results there, I don't know why, maybe it's because it's just our test track and we know what to look for," he told Motorsport.com.
"It's a short lap, there's only six corners, so really for teams and drivers there are only a few areas to focus on.
"It's very technical in some parts, like Turn 2 leading onto the back straight. You need a well-balanced car there to get it down the back straight quickly."
Don't forget to turn left
While the circuit is mostly made up of right-handers, Lowndes says the two left-hand turns in the middle of the lap can be crucial – particularly in qualifying.
"It's always difficult at the beginning of races in the left handers, because you have cold tyres on the right hand side of the car," he said.
"To get the balance right, I think it takes multiple laps, and it's incredibly tough to judge things to get the most of qualifying.
"You're more focussed on setting the car up to turn right, and to maximise those four corners, and then of course you need to make sure that the car is good enough to get through the two left-hand ones as well."
Lowndes heads into the seventh event of the season second in the points, albeit 248 points shy of runaway leader Mark Winterbottom.