Subscribe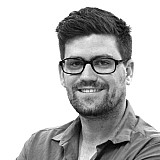 Chris Pither held out Paul Dumbrell to top the a co-driver only second V8 Supercars practice session on the Gold Coast.
The Volvo driver switched to soft tyres and jumped to the top of the times five minutes from the end of the half-hour session, knocking team-mate Alex Premat from P1 with a mid 1m12s lap. He then improved to a 1m12.285s right at the flag to secure P1.
"I'm not too sure who else was on softs. But at the end of the day, the GRM Volvo was spot on," said Pither.
"I'm really excited about the weekend ahead, I think we're in pretty good shape."
Paul Dumbrell finished second fastest in the car that Jamie Whincup crashed during this morning's opening session.
Having gone fastest right before a late red flag for debris, Dumbrell was then shuffled back when 'happy hour' started in the closing minutes. But a 1m12.285s with 90 seconds to go was good enough to wind up P2, jut one-hundredth of a second ahead of Jack Perkins.
Premat finished up fourth, having not improved on the 1m12.614s he set a little more than five minutes from the end of the session, with Prodrive's Steve Owen in fifth.
It was a tough session for Oliver Gavin, the Brit hitting the wall after a promising start to the session. While running in the Top 5, Gavin pulled the front-left corner out of his LD Motorsport Commodore at the first chicane. He managed to limp back to the pits, but for car #222 the session was over.
"I just got in a bit too deep, got a bit too much kerb on the right, and it flew me straight into the wall," Gavin explained.
"You know it's coming. Frustrated for the LDM guys. We're very keen to get a good result here. I'm disappointed in myself, I should know better."
| | | | | |
| --- | --- | --- | --- | --- |
| Pos  |  Driver  |  Car |  Time  |  Gap |
| 1  | Chris Pither | Volvo | 1:12.2857 |   |
| 2  | Paul Dumbrell | Holden | 1:12.3865 | 0.1008 |
| 3  | Jack Perkins | Holden | 1:12.3967 | 0.1110 |
| 4  | Alexandre Prémat | Volvo | 1:12.6140 | 0.3283 |
| 5  | Steve Owen | Ford | 1:12.6269 | 0.3412 |
| 6  | Warren Luff | Holden | 1:12.6357 | 0.3500 |
| 7  | Steven Richards | Holden | 1:12.6574 | 0.3717 |
| 8  | Alex Davison | Mercedes | 1:12.6701 | 0.3844 |
| 9  | Taz Douglas | Nissan | 1:12.6883 | 0.4026 |
| 10  | Luke Youlden | Holden | 1:12.8248 | 0.5391 |
| 11  | David Russell | Nissan | 1:12.8528 | 0.5671 |
| 12  | Karl Reindler | Holden | 1:12.8952 | 0.6095 |
| 13  | Alex Buncombe | Nissan | 1:12.9213 | 0.6356 |
| 14  | Jonathon Webb | Holden | 1:12.9826 | 0.6969 |
| 15  | Oliver Gavin | Holden | 1:13.0358 | 0.7501 |
| 16  | Marcos Ambrose | Ford | 1:13.0664 | 0.7807 |
| 17  | Dean Fiore | Nissan | 1:13.1130 | 0.8273 |
| 18  | Dean Canto | Ford | 1:13.1155 | 0.8298 |
| 19  | Tony D'Alberto | Holden | 1:13.1576 | 0.8719 |
| 20  | Russell Ingall | Ford | 1:13.3613 | 1.0756 |
| 21  | S.Bourdais | Holden | 1:13.5526 | 1.2669 |
| 22  | Andrew Jones | Holden | 1:13.8057 | 1.5200 |
| 23  | Jack Le Brocq | Mercedes | 1:14.1204 | 1.8347 |
| 24  | Macauley Jones | Holden | 1:14.1799 | 1.8942 |
| 25  | Ant Pedersen | Ford | 1:14.9500 | 2.6643 |