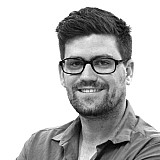 Scott McLaughlin says being at the back-end of the pit-lane order cost him a shot at victory on Sunday at Phillip Island.
The Volvo driver comfortably led the second stint of the race, taking over the lead from Mark Winterbottom during the first round of stops.
But McLaughlin was then jumped by Lowndes during the second round of stops, after having to get out of the throttle when re-joining pit-lane to avoid contact with Garth Tander.
That slight delay was enough to leave him a sitting duck for Lowndes – who had pitted a lap earlier and was at full-throttle on the main straight – in to Turn 1 as McLaughlin left pit-lane.
"Being down the back-end of pit-lane, it's quite hard," the young Kiwi explained.
"You come in with the lead and if you've got a fair enough gap on a few guys when they pit on the same lap they can kind of bog you down..
"Definitely, I had to wait there for a while. It's not long, but enough to probably just lose 50 metres on the racetrack – and that's what got Lowndesy in front of me.
"He was fast as well, he pulled away from me, but I felt that if I could have just been in front, I might have been able to hold him off."
Learning by racing at the front
Despite missing out on a win, McLaughlin said racing against the likes of Lowndes and Jamie Whincup at the front of the field is perfect for his development as a driver.
"Those are really the races that teach me," he added. "As a young driver coming up, it's good to race these guys and learn how to hold my own with these guys."