Get alerts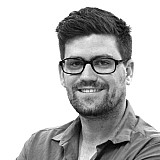 Rain played its part in practice for a second time today at Phillip Island, points leader Mark Winterbottom getting the best of the running to lead the way.
Once again the session was started in wet conditions, and just like the earlier practice it was Fabian Coulthard who was fastest straight out of the box.
It wasn't until the 20 minute-mark that the conditions began to properly improve, times settling around the 1m40s mark with Jamie Whincup leading the way.
Conditions then improved even more across the next few minutes, Mark Winterbottom getting the absolute best of running to go fastest with a 1m35.950s – right before spearing off at Turn 2 on the very next lap.
Scott Pye and Jason Bright also improved at about the right time, both setting times in the low 1m36s mark that left them P2 and P3.
Immediately after that burst of quick times the rain returned, essentially turning the second half of the session into a wet weather test run and leaving times at the top static until the end.
Winterbottom's title rivals David Reynolds and Craig Lowndes were both near the front of the field, finishing fourth and fifth respectively having also snuck times in right before the rain reappeared.
| | | | | |
| --- | --- | --- | --- | --- |
| Pos |  Driver  |  Car |  Time  |  Gap  |
| 1  | M.Winterbottom | Ford | 1'35.9504 |   |
| 2  | Scott Pye | Ford | 1'36.0863 | 0.1359 |
| 3  | Jason Bright | Holden | 1'36.2471 | 0.2967 |
| 4  | David Reynolds | Ford | 1'36.6485 | 0.6981 |
| 5  | Craig Lowndes | Holden | 1'36.6538 | 0.7034 |
| 6  | Garth Tander | Holden | 1'37.0981 | 1.1477 |
| 7  | Rick Kelly | Nissan | 1'37.1291 | 1.1787 |
| 8  | Will Davison | Mercedes | 1'37.5197 | 1.5693 |
| 9  | Cameron Waters | Ford | 1'37.6765 | 1.7261 |
| 10  | Scott McLaughlin | Volvo | 1'37.7466 | 1.7962 |
| 11  | Todd Kelly | Nissan | 1'38.0426 | 2.0922 |
| 12  | David Wall | Volvo | 1'38.1871 | 2.2367 |
| 13  | Chris Pither | Ford | 1'38.3896 | 2.4392 |
| 14  | Tim Blanchard | Holden | 1'39.7236 | 3.7732 |
| 15  | S.van Gisbergen | Holden | 1'39.8988 | 3.9484 |
| 16  | Lee Holdsworth | Holden | 1'40.1573 | 4.2069 |
| 17  | Jamie Whincup | Holden | 1'40.4043 | 4.4539 |
| 18  | Dale Wood | Holden | 1'40.6110 | 4.6606 |
| 19  | Michael Caruso | Nissan | 1'41.1385 | 5.1881 |
| 20  | Dean Canto | Mercedes | 1'41.2192 | 5.2688 |
| 21  | Nick Percat | Holden | 1'41.2226 | 5.2722 |
| 22  | James Moffat | Nissan | 1'41.8362 | 5.8858 |
| 23  | Fabian Coulthard | Holden | 1'42.1528 | 6.2024 |
| 24  | James Courtney | Holden | 1'44.0770 | 8.1266 |
| 25  | Tim Slade | Holden | 1'44.6809 | 8.7305 |