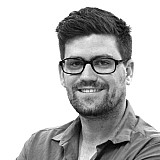 Penske driver Scott Pye emerged quickest from a rain-affected first V8 Supercars practice session at Phillip Island.
The session started in full wet conditions, Fabian Coulthard making the best of the rain by getting down to a 1m45.929s.
The times quickly fell into the mid-45s, the likes of Coulthard, Lee Holdsworth, and Mark Winterbottom setting the pace, before Jamie Whincup clearly demonstrated that the track was starting to dry with a 1m44.414s around the quarter hour mark.
That led to a brief quiet period as teams waited for conditions to improve, before the times started to drop again 22 minutes in when Shane van Gisbergen slipped into 1m43s.
That became 1m42s 10 minutes later, van Gisbergen again the pace-setter as he dipped down to a 1m42.818s mid-way through the session.
Craig Lowndes was first to blink, switching to a slick tyre 37 minutes in. Within a few minutes others started to follow, Coulthard quickly banking a 1m39.0319s to show it was the faster tyre.
From there the times really started to fall, dropping seconds at a time. They ultimately settled in the 1m32s range, a two-lap run from Pye right at the flag leaving him P1 with a 1m32.055s.
"In the wet conditions we haven't done that much running, so we experimented a lot with pressures and some set-up stuff," said the DJR Team Penske driver.
"I felt like just before we went the slicks we were fairly strong. Then the guys just put the car back to a dry set-up, and ran what we came here with. We rolled out competitive again, which is great."
Given the way the conditions continued to improve, Pye wasn't the only late improver. Todd Kelly wound up P2, less than a tenth behind Pye, thanks to a run two minutes from the end, while Jason Bright made 19 spots to fastest inside the last 10 minutes before ultimately finishing third.
Points leader Mark Winterbottom was fourth fastest, ahead of closest title rival David Reynolds. Jamie Whincup was sixth, Nissan's James Moffat seventh, while Nick Percat was impressively quick given his mid-week injury woes, finishing up eighth after being fastest eight minutes from the end.
Lowndes was just 13th fastest, but only used one set of slicks after that early change over from the wets mid-way through the session.
Stand-in drivers Dean Canto and Chris Pither had a tough session, finishing 24th and 25th respectively.
| | | | | |
| --- | --- | --- | --- | --- |
| Pos | Driver  | Car  |  Time  |  Gap  |
| 1  | Scott Pye | Ford | 1'32.0552 |   |
| 2  | Todd Kelly | Nissan | 1'32.1472 | 0.0920 |
| 3  | Jason Bright | Holden | 1'32.2901 | 0.2349 |
| 4  | M.Winterbottom | Ford | 1'32.3086 | 0.2534 |
| 5  | David Reynolds | Ford | 1'32.3710 | 0.3158 |
| 6  | Jamie Whincup | Holden | 1'32.6039 | 0.5487 |
| 7  | James Moffat | Nissan | 1'32.7020 | 0.6468 |
| 8  | Nick Percat | Holden | 1'32.7259 | 0.6707 |
| 9  | Scott McLaughlin | Volvo | 1'32.7627 | 0.7075 |
| 10  | Fabian Coulthard | Holden | 1'32.7865 | 0.7313 |
| 11  | James Courtney | Holden | 1'32.8057 | 0.7505 |
| 12  | Garth Tander | Holden | 1'32.8489 | 0.7937 |
| 13  | Craig Lowndes | Holden | 1'32.9415 | 0.8863 |
| 14  | Cameron Waters | Ford | 1'33.0184 | 0.9632 |
| 15  | Dale Wood | Holden | 1'33.0201 | 0.9649 |
| 16  | David Wall | Volvo | 1'33.0692 | 1.0140 |
| 17  | Tim Blanchard | Holden | 1'33.1448 | 1.0896 |
| 18  | Michael Caruso | Nissan | 1'33.2830 | 1.2278 |
| 19  | Will Davison | Mercedes | 1'33.2888 | 1.2336 |
| 20  | S.van Gisbergen | Holden | 1'33.3561 | 1.3009 |
| 21  | Rick Kelly | Nissan | 1'33.4213 | 1.3661 |
| 22  | Lee Holdsworth | Holden | 1'33.4415 | 1.3863 |
| 23  | Tim Slade | Holden | 1'33.4914 | 1.4362 |
| 24  | Dean Canto | Mercedes | 1'33.8909 | 1.8357 |
| 25  | Chris Pither | Ford | 1'33.9095 | 1.8543 |