Subscribe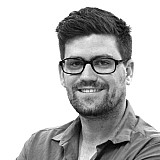 The fight for the 2015 V8 Supercars title will go down to the final round at Homebush, thanks to a Craig Lowndes victory at Phillip Island today.
Starting from the front-row – right next to points leader Mark Winterbottom – Lowndes actually made a sluggish launch. By the time the field got around to Turn 4 on the first lap, the veteran had slipped from second to fourth, with Winterbottom leading Jamie Whincup and Scott McLaughlin.
As the first round of stops shook out in the first 11 laps, nothing much changed for Lowndes. He was still fourth after making his stop, behind McLaughlin, Winterbottom, and Michael Caruso.
But by the time the second round of stops took place, Lowndes was in control of the race. Having cleared Caruso during the stint, Lowndes then put in huge in and out laps to pass both McLaughlin and Winterbottom in the pits.
That put him in a lead that he would hang onto until the finish, despite having McLaughlin breathing down his neck the whole way.
"We started with our worst set of tyres, and of course we got a really terrible start. We just had to knuckle down, focus, and believe that the car was going to be fast enough. As the race went on, it definitely was," said Lowndes.
"We're still fighting. There are still those team's championship and driver's championship up for grabs."
Whincup then gave his team-mate Lowndes a helping hand on the very last lap of the race by stealing third from Winterbottom.
The pair had staged a tense battle over the last five laps, Whincup having closed right in on Winterbottom through the middle part of the final stint. It all came to a head at MG Corner on the very last lap, Whincup passing Winterbottom with two wheels on the grass.
"Ten seconds back, and all I could see was the podium," said Whincup. "I went for the big lunge down the inside. I figured he's going to win the war, so I may as well try and win the battle. Good feeling."
Winterbottom still leads the points by 179 with 300 on offer in Sydney in a fortnight. And with David Reynolds finishing that race 10th, it is now officially a two-horse race.
Despite being so quick in the first part of the race, Caruso missed out on a decent result thanks a drive-through penalty for spinning his wheels on the jacks during his first stop.
Not that it was a bad day for the Nissan squad, though, with Todd and Rick Kelly finishing fifth and sixth respectively – the latter surviving a scary moment going door-to-door with Cam Waters early in the race.
Volvo-bound James Moffat capped of Nissan's solid day out with eighth in the #99 Altima.