Get alerts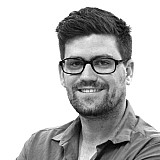 Scott McLaughlin turned a poor qualifying performance into a shock victory in Perth, beating David Reynolds and Craig Lowndes to take his fourth consecutive Supercars race win.
It was Jamie Whincup who made the best of the start, charging from the outside of the front row into an early lead as Chaz Mostert slipped into second and polesitter Shane van Gisbergen dropped to third. 
But it all changed when the safety car emerged on Lap 4, leading to almost everyone diving into the lane. Whincup dropped back to what was effectively fourth, while double stacking sent van Gisbergen tumbling through the pack.
Mostert, Andre Heimgartner, and David Reynolds came out as the top three, while the biggest winner of the frantic early round of stops was Scott McLaughlin, who jumped from 12th to fifth to basically neutralise his poor qualifying performance. 
Mostert led much of the second stint, coming under pressure from Reynolds as the race reached the 25-lap mark. A lap later Whincup, who was right on Heimgartner's gearbox in fourth, sparked the second round of stops by heading to the lane.
Mostert, Heimgartner, and McLaughlin responded on Lap 27, leaving Reynolds out front.
From that group McLaughlin came out best, with track position over Heimgartner and Whincup, while Mostert dropped back into the pack and out of contention thanks to a timer problem during his stop.
Reynolds finally made his second stop on Lap 32, which meant he copped a big hit with the undercut. He came out just ahead of Mostert, but behind the other three in the effective lead group.
On Lap 34 McLaughlin filtered into the actual lead of the race, with Heimgartner second. As the strategies all shook out, Reynolds and Whincup slotted into third and fourth.
That slightly earlier stop started to cost Whincup as the second stint wore on, the reigning champion dropping back behind the likes of James Courtney and Craig Lowndes who had better rubber.
Reynolds, meanwhile, was benefitting from his later stop, moving past Heimgartner for second on Lap 48, with an 8.1-second deficit to leader McLaughlin.
On Lap 59 the leaders kicked off the third and final round of stops, Courtney going first on Lap 57, followed by McLaughlin two laps later. Reynolds them made his stop on Lap 60, coming out around six behind McLaughlin, and three clear of Courtney.
Reynolds quickly closed to the gap to three seconds, and then within two seconds with 12 laps to go. But McLaughlin was up to the challenge, responding by pushing the gap back to 2.5s with six laps to go.
In the end the Kiwi was able to cruise home to a 7.9s win, the gap slightly bigger than it needed to be thanks to Reynolds almost throwing second place away by running wide at the last corner on the final lap.
"I couldn't believe it," said McLaughlin. "The strategy was on point. We made it difficult for ourselves [with qualifying], but we brought it back. I joked to [Dick Johnson before we went out, I said 'I reckon we could win this thing'. I didn't bloody think I was going to do it!" 
Lowndes finished the race third thanks to using an overcut-heavy three-stopper, a remarkable comeback given he started the race from the back row of the grid.
"I said to [race engineer John McGregor] 'you call the shots, I'll drive the wheels of it'," said Lowndes. "I think we did that today.
"The car was really good. For me to be able to do the long stints in the middle was really important, but also to be able to close the gap to the guys at the front."
Courtney was fourth, while van Gisbergen ended up best of the Red Bull Holdens, having switched to a four-stopper after being dumped back in the field by the early stop behind the safety car. After making his final stop on Lap 65, van Gisbergen was able to easily hunt down Heimgartner and Whincup in the closing stages.
Whincup ended up sixth ahead of Percat, while Heimgartner dropped back to eighth.
Four-stoppers Jack Le Brocq and Rick Kelly rounded out the Top 10, while Mostert could only manage 11th.
McLaughlin how holds a comfortable 158-point lead over van Gisbergen in the standings, with Reynolds 168 points back in third.
Race 2 Results: