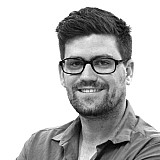 Nick Percat's LD Motorsport Commodore will run a special pink livery at this weekend's Supercars season-ending Sydney 500.
Percat's car will don the colours of the McGrath Foundation, in a bid to raise money for breast cancer nurse around Australia.
The tweak to the livery was suggested by Phil Munday, owner of lead sponsor Repair Management Australia.
"I'm excited to have a special one off McGrath foundation livery," said Percat.
"This is an organisation quite close to my family and I feel privileged to be able to help raise awareness for the McGrath Foundation.
"Being my final round with [team owner] Lucas [Dumbrell] and his team will be special because this small group gave me my first Supercars win at the Clipsal 500, which is something I will never forget.
"I would personally like to thank Phil Munday; the support he gives Lucas and the team goes beyond having Repair Management stickers on the door. He is a great friend and mentor to myself and the team.
"Lucas is a lot more than a boss, he is a good friend and what he did for me at the end of 2014 is something that I am forever grateful for. I have gained a lot over the last two years and I am excited to get him a good result at the Coates Hire Sydney 500."