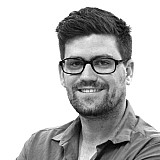 DJR Team Penske will run two different liveries for the V8 Supercars support races at the Australian Grand Prix this weekend.
As part of the squad's ongoing rolling sponsorship programme both the #17 and #12 Falcons will run fresh liveries at Albert Park. Scott Pye's car will be backed by Western Star Trucks, and Fabian Coulthard's car will be backed by Detroit.
"Representing two major Penske brands at the one race event is a first for the team, and we are excited to race in Western Star and Detroit colours at Albert Park," said DJR Team Penske's managing director Ryan Story.
"Both brands are iconic within the transportation industry and our matching liveries really do them justice. The two cars will look striking against the backdrop of the Melbourne city skyline on the fast and demanding Albert Park circuit.
"After a challenging, yet encouraging weekend at Adelaide last time out, we are excited to go racing again at Albert Park. Last year this proved to be a pretty tough event for our newly constituted team, but we are making great progress and our expanded group continues to gel well.
"Despite not being a championship event, it's one we take very seriously indeed and certainly our drivers and the whole group will be chasing some solid results."