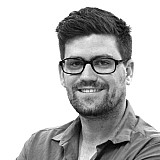 DJR Team Penske is hoping it can develop into a team genuinely capable of winning at Bathurst when The Great Race rolls around this year.
After a tough start to the season, Penske has started to hit its straps in the last couple of rounds, with Scott Pye finishing inside the Top 10 in three of the last four races.
The team also welcomed Marcos Ambrose back to the driver's seat in Darwin, the ex-NASCAR driver taking part in both of Friday's practice sessions – although later admitted that he didn't feel comfortable in the Falcon.
Despite Ambrose struggling to reacclimatise to a V8 Supercar, Penske Racing president Tim Cindric reckons between the team's improving form, and Ambrose's prior experience at Mount Panorama, a Bathurst win isn't out of the question.
"I would hope we're a threat," Cindric told the official V8 Supercars website.
"Once we get to the enduros our goal has always been to run consistently in the Top 10.
"That's been our goal, that continues to be a goal and if we can do that, at enduro time anyone who runs in the Top 10 has a chance to win those races, the way they play out.
"We wouldn't be here if we didn't think we had a chance."