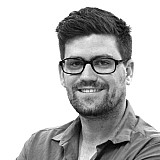 DJR Team Penske has revealed a green and gold WM Waste livery for Scott Pye's Ford ahead of the Sydney 500.
In what will be Pye's last race with the team before he joins Walkinshaw for 2017, long-time DJR Team Penske partner WM Waste will take over naming rights of the #17 Ford.
"WM Waste have supported the race team over many years and we are thrilled to repay that commitment with a full car livery at the Sydney 500," said DJR Team Penske Managing Director Ryan Story.
"As we head into 2017, our partnership will strengthen as the WM Waste brand will be seen on both Shell V-Power Fords. Local companies with great heritage are a passion for the sport are critical to our category and Mark and his team at WM Waste demonstrate and leverage that very well."
It is the last time Penske will use its rolling sponsorship model, with Shell set to back both Fabian Coulthard and new signing Scott McLaughlin full time next season.
Scott Pye livery