Subscribe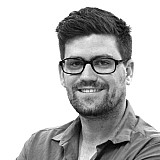 Roger Penske says his V8 Supercars team is yet to make a final decision on its driver line-up for next year, despite mounting speculation that Fabian Coulthard is Stapylton-bound for 2016.
Coulthard – widely regarded as the key to the silly season – has been linked with the DJR Team Penske seat for months, with paddock chatter suggesting that the Kiwi now has a pre-agreement with the Queensland squad.
That would then become a proper agreement next month, when a clause in Coulthard's current contract with Brad Jones Racing allows him to formally sign for another time.
While it seems incredibly likely that Coulthard will head to DJR Team Penske next year, boss Roger Penske told Motorsport.com that no formal agreements are in place just yet.
"We've talked to a number of drivers, but we haven't made a final decision yet on what we're doing," said Penske.
"We've got Scott Pye, and we're racing with Marcos [Ambrose], we're going to start the long-distance races.
"So that's going to be the big question – who we look for once we see what Marcos is going to do [next year]."
Ambrose still in the frame, says Penske
Regardless of whether or not DJRTP expands to two cars next season, it now seems unlikely that Ambrose will make a full-time return to racing next season.
However, Penske still refuses to rule the Tasmanian out, adding that the team will give him a proper chance to decide what his future holds before announcing any other drivers.
"I think he really wants to see where he is based on [the endurance races]," Penske told Motorsport.com.
"Our car is better, we've had some decent finishes, we've made a lot of progress. It's kind of been a whole year for us to get our feet on the ground."
What will Reynolds do?
If Coulthard is indeed on the move, that will leave a plum seat up for grabs at BJR.
But while out-of-contract Ford star David Reynolds has been linked to the seat, Motorsport.com understands that he is waiting to see if he will be offered a contract extension at Prodrive before making any firm decisions on his future.
If Reynolds did decide on a change of scenery, like Coulthard he can't formally agree to a contract with any other team until next month.
Additional reporting by Lee Spencer