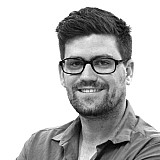 Rick Kelly's Nissan Altima will sport a special farewell Jack Daniel's Racing livery at this weekend's Sydney 500.
The season-ending street race will be the Jack Daniel's brand's last as a primary sponsor in V8 Supercars, with a 10-year association with the sport coming to an end.
To celebrate the Jack Daniel's Racing era, the team has created a 'throwback' livery based on the colours that the original Perkins Engineering-run JDR cars ran back in 2006.
"This weekend for us is a real celebration of that time, and as it draws to conclusion we thought it would be great to do something a bit special," explained Kelly.
"The design on my car references the 2006 Jack Daniel's livery, recreating the same scheme that first introduced the brand to the sport.
"The car also features the names of all the staff members from Brown-Forman as well as every driver that has raced for Jack Daniel's racing over the last decade.
"Sure it's sad for the relationship to come to an end, but to have a brand like Jack Daniel's in our sport for such a long time, it's great to be able to look back on their ten year involvement with the sport."
The one-off livery also has increased branding from Network 10, which has had a personal deal with Kelly for the 2015 season.