Get alerts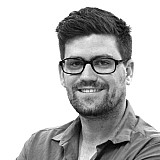 The brand new ZB Commodore has successfully been shaken down, with Jamie Whincup completing 60 kilometres in the car at Norwell yesterday afternoon.
The new Commodore, designed by Triple Eight Race Engineering and GM Holden, broke cover in a camouflage livery at the Queensland circuit yesterday.
Six-time Supercars champ Whincup was in charge of putting the new European-designed bodyshape through its paces, the shakedown set to be a precursor to testing proper, and the aerodynamic tests that will be necessary for the car to be eligible to debut in Adelaide next March.
There will be three full tests before the aero is finalised and the car is homologated.
According to Whincup it was a case of good first impressions, the Red Bull Holden star claiming the car is "99 per cent there".
"The team's been burning the midnight oil behind the scenes for this moment when we finally get to bring the brand new Commodore to the track and test it for the first time," he said.
"So far it feels fantastic. The work that they've done behind the scenes to this point, in my opinion we're 99 per cent there.
"There's just some fine-tuning that's got to go on in the next few weeks and the next few months until we fully unleash the full version in 2018."
Triple Eight boss Roland Dane emphasised how hard his team had been working to get the new car ready, while also fielding three VFs across the Red Bull and TeamVortex outfits.
"The overall look of the [new] car is quite different from anything we've had before, so it's been a big but exciting task, and we're relishing the opportunity to get on track to see how we've done," said Dane.
"The team's had to work incredibly hard this year in order to compete on track with the current VF Commodore, but also work flat out on the new car. By the time we get to the end of this year, the development process will have taken up about 20,000 hours.
"We are very privileged to have been given the responsibility for developing and producing the new Commodore as a racecar.
"We're excited to see the results of the work that we've been carrying out."
Testing off the new car will take place with the traditional V8 engine, while a parallel development programme for the twin-turbo V6 engine continues.
The hardware will be staggered in its introduction to the series, with the ZB body to debut at the start of the next season, before being paired to the V6 engine for several wildcard rounds ahead of a full roll-out of the new powerplant in 2019.