Subscribe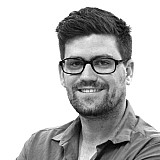 The latest Supercheap Auto-backed V8 Supercar has been revealed, with Prodrive Racing Australia taking the covers off of Chaz Mostert's Falcon.
The long-time V8 sponsor shifts to the Prodrive from Walkinshaw Racing for the 2016 season, taking over from Pepsi Max as the primary backer on Mostert's car.
Pepsi Max, which backed both main PRA cars until the end of last season, has been retained as a bonnet sponsor.
The new look has been fixed to a brand new chassis, which will make its on-track debut later today (Monday) at Winton.
No fitness concerns
The Winton test will also mark Mostert's return to the cockpit of a V8 Supercar after his season-ending crash at Bathurst last year.
Having already banked some race miles in a kart, Mostert says he has no fitness concerns heading into the test, and the 2016 season.
"This season is a fresh start for me after the abrupt end to last season and with a brand new chassis, new sponsor and new engineer I have high hopes I can quickly get back among the frontrunners," said Mostert.
"I am not setting any specific goals as I am well aware it isn't going to be an easy road back once we start racing but I've got a great group of people around me and I've hit all my rehab targets so we'll start the season as strongly as possible."