Get alerts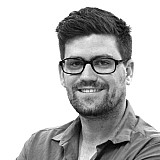 Chaz Mostert has talked through the frightening crash that broke his leg, wrist, and destroyed his chances of defending his Bathurst 1000 crown.
Mostert crashed heavily five minutes in to Friday's qualifying session, the impact not only destroying his Prodrive Racing Falcon, but breaking the young star's femur and wrist, injuries that are likely to sideline him for the remainder of the V8 Supercars season.
Mostert successfully underwent surgery in Orange yesterday morning.
According to the Pepsi Max-backed driver, the crash was the biggest he's had in his career.
"I was going down the hill and generally you follow your line using the black rubber marks," the 23-year-old explained.
"I was just a little bit out of sync, but to be honest it wasn't a ten-tenths lap, it was just a nine out of 10.
"I turned in a little bit early, but it was all over pretty quickly after that.
"It was the biggest hit I've ever had in my career. I knew something was pretty wrong when I stopped. From my point of view I am very lucky to be here with the relatively minimal injuries I've got.
"In those first minutes after a big crash you can feel pretty bad, pretty quickly, but the medical team reacted correctly and got on the scene quickly.
"It shows how lucky we are in V8 Supercars to have so many passionate people that know so much about the health side of things, so thanks so much to all of the crews that worked on me."
Emotional response to fan support
Mostert added that he has been touched by the support he has received from racing fans around the country, but that he's also been affected by the fact that volunteer marshals were injured as part of his crash.
"The fan response has been just unbelievable. I am overwhelmed to be honest," he said.
"It has given me a skip in my step and I get emotional thinking about all those people that have taken the time out to wish me well.
"But then I had a lot of very different emotions when I heard marshals had been hurt from my accident. I have met a couple of them here in the hospital but I will have to catch up with them and have some dinner and tell some stories when I am recovered a little more."