Get alerts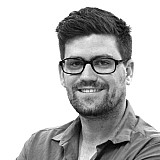 Chaz Mostert is enjoying a pain-free return to the cockpit of a V8 Supercar today, after a five-month layoff thanks to injuries he sustained in his horror Bathurst crash last year.
Mostert was left with a broken left femur and wrist thanks to the frightening crash at Mount Panorama last October, the injuries ruling him out for the rest of the 2015.
During today's test session at Winton he made a long-awaited return to the cockpit of a Prodrive Falcon, an experience he says has been both pain and problem free.
"It's pain-free. On the leg I still need to find some strength for it to be where I want it to be, but to drive the car, I have no worry in the world that we'll be right for Clipsal," he said.
"I have my full range that I need in the car for the clutch, and enough strength to use it. If it was right foot, it would probably take a bit more of a knock around. But as a left leg, for the clutch, it seems to be fine.
"I'm feeling good. It's my first crack back in the car since the crash, but I'm loving it."
Rookie anticipation
While it's a case of so far, so good for Mostert on his return, he did admit that there were a few butterflies in his stomach before he jumped in the car this morning, comparing it to his first ever drive of a V8 Supercar. 
I had butterflies this morning, it felt like my first drive in a main series car all over again," he said. "Not nervous, just excited. I was excited to get back in the car after sitting out for five months.
"I'm just blowing the cobwebs out, and starting to put some better lap-times in now. There's still some chassis balance to find, but I haven't forgotten too much, which is nice."