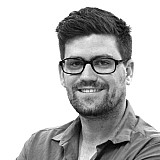 Chaz Mostert and Craig Lowndes split the V8 Supercars pole positions across two qualifying sessions at Queensland Raceway.
Mostert did it easy in the first session on the hard tyre, beating the entire field by 0.247s – quite remarkable given that the Top 17 was covered by less than a second.
"The guys have given me a brilliant car," he said.
"When you start the first practice you know if you're kind of on to a good thing. I didn't want to get too sure, but I knew we had a pretty good car this weekend straight out the gate.
"We tuned it, and the thing is so quick over one lap. Now we just have to make it quick over 20 laps."
Mostert's team-mate and points leader Mark Winterbottom will start the first race second, ahead of the Super Black/Prodrive entry of Andre Heimgartner, who shocked the field to qualify third.
"I'm lost for words," said the Kiwi. "The car was fantastic. It's a great place to start from."
Scott McLaughlin jumped Craig Lowndes on his last run to grab fourth, relegating Lowndes to fifth, while Shane van Gisbergen went from second last to sixth on his very last lap.
James Moffat was the best Nissan in seventh, while Ipswich local Ash Walsh out-qualified his Erebus team-mate Will Davison, the pair set to start 13th and 14th.
Jamie Whincup was just 11th fastest on the hard tyre, while title contender Fabian Coulthard was just 15th.
Lowndes leads the way on softs
When the field swapped to the softer Dunlop tyre for the second 10-minute session, it was Lowndes who secured pole for this afternoon's second race.
Lowndes set his 1m09.310s fairly early into the second runs at the end of the session, but it was enough to hold off Prodrive pair Winterbottom and Mostert, who were second and third.
"Obviously the guys have been working hard," said Lowndes.
"We made a change between the hard and the soft; it was encouraging on the hard, but the soft is where we like it. Now we have to turn that in to some kind of result."
McLaughlin made it a pair of fourths, while Todd Kelly was a big improver, qualifying fifth on the soft.
David Reynolds rounded out the third row, while Walsh was again the best of the Erebus cars, this time in seventh.
Whincup was eighth, while Coulthard had another tough session, qualifying just 21st, a spot ahead of van Gisbergen.
Qualifying for Race 18
| | | | | |
| --- | --- | --- | --- | --- |
| Pos  |  Driver  |  Car |  Time  |  Delay  |
| 1  | Chaz Mostert | Ford | 1'09.7755 |   |
| 2  | M.Winterbottom | Ford | 1'10.0234 | 0.2479 |
| 3  | A.Heimgartner | Ford | 1'10.0367 | 0.2612 |
| 4  | Scott McLaughlin | Volvo | 1'10.0578 | 0.2823 |
| 5  | Craig Lowndes | Holden | 1'10.0755 | 0.3000 |
| 6  | S.van Gisbergen | Holden | 1'10.1366 | 0.3611 |
| 7  | James Moffat | Nissan | 1'10.1369 | 0.3614 |
| 8  | James Courtney | Holden | 1'10.1680 | 0.3925 |
| 9  | Scott Pye | Ford | 1'10.1787 | 0.4032 |
| 10  | David Reynolds | Ford | 1'10.1791 | 0.4036 |
| 11  | Jamie Whincup | Holden | 1'10.1827 | 0.4072 |
| 12  | Tim Slade | Holden | 1'10.1967 | 0.4212 |
| 13  | Ashley Walsh | Mercedes | 1'10.2024 | 0.4269 |
| 14  | Will Davison | Mercedes | 1'10.2276 | 0.4521 |
| 15  | Fabian Coulthard | Holden | 1'10.2578 | 0.4823 |
| 16  | Garth Tander | Holden | 1'10.2620 | 0.4865 |
| 17  | Nick Percat | Holden | 1'10.2668 | 0.4913 |
| 18  | Michael Caruso | Nissan | 1'10.3003 | 0.5248 |
| 19  | Rick Kelly | Nissan | 1'10.3556 | 0.5801 |
| 20  | Lee Holdsworth | Holden | 1'10.3973 | 0.6218 |
| 21  | Dale Wood | Holden | 1'10.5132 | 0.7377 |
| 22  | Todd Kelly | Nissan | 1'10.6476 | 0.8721 |
| 23  | David Wall | Volvo | 1'10.6883 | 0.9128 |
| 24  | Tim Blanchard | Holden | 1'10.8865 | 1.1110 |
| 25  | Jason Bright | Holden | 1'11.1473 | 1.3718 |
Qualifying for Race 19
| | | | | |
| --- | --- | --- | --- | --- |
|  Pos |  Driver  |  Car |  Time  |  Delay  |
| 1  | Craig Lowndes | Holden | 1'09.3102 |   |
| 2  | M.Winterbottom | Ford | 1'09.3229 | 0.0127 |
| 3  | Chaz Mostert | Ford | 1'09.3308 | 0.0206 |
| 4  | Scott McLaughlin | Volvo | 1'09.3510 | 0.0408 |
| 5  | Todd Kelly | Nissan | 1'09.4155 | 0.1053 |
| 6  | David Reynolds | Ford | 1'09.4319 | 0.1217 |
| 7  | Ashley Walsh | Mercedes | 1'09.4657 | 0.1555 |
| 8  | Jamie Whincup | Holden | 1'09.4863 | 0.1761 |
| 9  | Will Davison | Mercedes | 1'09.4888 | 0.1786 |
| 10  | A.Heimgartner | Ford | 1'09.5517 | 0.2415 |
| 11  | Scott Pye | Ford | 1'09.5542 | 0.2440 |
| 12  | James Courtney | Holden | 1'09.5837 | 0.2735 |
| 13  | James Moffat | Nissan | 1'09.5886 | 0.2784 |
| 14  | Michael Caruso | Nissan | 1'09.6419 | 0.3317 |
| 15  | Garth Tander | Holden | 1'09.6559 | 0.3457 |
| 16  | Rick Kelly | Nissan | 1'09.6623 | 0.3521 |
| 17  | Tim Slade | Holden | 1'09.7158 | 0.4056 |
| 18  | Jason Bright | Holden | 1'09.7256 | 0.4154 |
| 19  | Lee Holdsworth | Holden | 1'09.7418 | 0.4316 |
| 20  | Nick Percat | Holden | 1'09.7512 | 0.4410 |
| 21  | Fabian Coulthard | Holden | 1'09.7807 | 0.4705 |
| 22  | S.van Gisbergen | Holden | 1'09.7980 | 0.4878 |
| 23  | Tim Blanchard | Holden | 1'09.8835 | 0.5733 |
| 24  | David Wall | Volvo | 1'09.8984 | 0.5882 |
| 25  | Dale Wood | Holden | 1'10.0711 | 0.7609 |