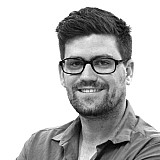 Chaz Mostert claims he gave his veteran teammate all he had at the end of the Sandown 500.
Chaz Mostert says he wasn't just putting on a show in the latter stages of the Sandown 500, and that he would have tried to pass team-mate Mark Winterbottom had he seen an opportunity.
Winterbottom and Mostert spent the last part of the 500-kilometre race running nose-to-tail at the front of the field, before crossing the line in a near formation finish to bank an impressive 1-2 for Prodrive Racing Australia.
Pushing hard
According to Mostert, however, there was nothing staged about the finish. He says that he was genuinely racing his team-mate – and title rival – in the closing laps.
"I was pushing [Winterbottom] pretty hard," said Mostert.
"I was trying to catch him in the last stint, but he got away on those first five or 10 laps there. I'd love to see the splits; I'm sure they'll be half a tenth, if that, per lap.
"It was exciting to put on a bit of a show at the end there. I tried really hard to catch him, but he was just too quick today."
Winterbottom currently leads Mostert in the standings by 198 points, with 300 on offer per weekend.
Mostert impressed with Waters swagger
Mostert also praised co-driver Cameron Waters' swashbuckling drive in the second stint of the race, which saw the young star charge through the top end of the field after a long first fuel stop.
"Cam did and awesome job. He got dropped out with our strategy, we ran him a bit longer in the first stint and put a bit extra fuel in," Mostert explained.
"And he carved up all the other co-drivers pretty quick.I was clapping him on down near the fence there, and it was pretty awesome to watch him do his thing."
Waters added that the action-packed stint was a good confidence booster ahead of the Bathurst 1000.
"It was good to me to do a long stint in the car," he said.
"As the stint went on I worked out what to do with the car, and how to get the most out of it.
"It was a bit of fun for me to drive around the other co-drivers, pass them, and then pull away. I was pretty happy. Looking forward to Bathurst."