Get alerts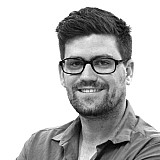 Chaz Mostert cruised his way to victory in the first of today's two 60-kilometre V8 Supercars races in Darwin.
Starting from P2, the Prodrive Racing Australia driver had little trouble on his way to victory. He started by out-dragging pole-sitter James Courtney on the long run to the first turn, before gapping the field by more than a second on the first lap.
He pulled exactly the same trick after after two safety car periods, both called to put out a small grass fires on the edge of the circuit, and was generally untroubled on his way to victory.
"This track is a bit of a bogey, so its fantastic to win the race," Mostert said. "All better off for the team to get a 1-2."
Mostert's cause was greatly helped by a tight battle for second behind him. For the first half of the race, it was all about Courtney and Mark Winterbottom.
While Courtney had track position, Winterbottom was clearly faster. And on Lap 13, the pressure finally got to the Holden Racing Team driver, who ran wide and let Winterbottom and Rick Kelly through.
The top three held station until the end, making it a Prodrive 1-2 and giving Kelly his second podium in as many race weekends.
Things got much worse for HRT as the race came to a close. When the race restarted after the second safety car, just two laps from the end, Courtney and Garth Tander – who had made a miraculous recovery from 15th on the grid, were both in with a shot of the last spot on the podium.
However, when Courtney and Shane van Gisbergen got together on the approach to the first corner it took both of them, plus Tander, out of contention. Tander ended up back down in 20th, while Courtney ultimately finished 23rd.
This was all great news for Nissan. When the HRT cars and van Gisbergen flying off at Turn 1, James Moffat and Michael Caruso swooped through to grab fourth and fifth, making it three Altimas in the top five.
Courtney wasn't the only title contender to have a bad day. For Fabian Coulthard, the race was over before it had barely started, the Kiwi copping a hit from Jamie Whincup on the run to Turn 1.
The contact sent both drivers off the track, Coulthard quickly retiring, while Whincup went on to finish 11th after keeping his nose clean from that point onwards.
"I feel like the innocent bystander," said Coulthard. "I started to turn in and the next thing I saw all this blue car next to me."
Whincup's team-mate Craig Lowndes had a shocker as well. He was turned around as part of an early midfield melee on the first lap, before running off again Lap 16 while running side-by-side with Will Davison. Lowndes wound up finishing 18th.
| | | | | | |
| --- | --- | --- | --- | --- | --- |
| Pos |  Driver  |  Car  |  Laps  |  Time  |  Gap  |
| 1 | Chaz Mostert | Ford | 21 | 27'48.7583 |   |
| 2 | M.Winterbottom | Ford | 21 | 27'49.7771 | 1.0188 |
| 3 | Rick Kelly | Nissan | 21 | 27'50.8052 | 2.0469 |
| 4 | James Moffat | Nissan | 21 | 27'51.1891 | 2.4308 |
| 5 | Michael Caruso | Nissan | 21 | 27'52.1446 | 3.3863 |
| 6 | Scott Pye | Ford | 21 | 27'52.4236 | 3.6653 |
| 7 | Tim Slade | Holden | 21 | 27'52.7317 | 3.9734 |
| 8 | Dale Wood | Holden | 21 | 27'53.0872 | 4.3289 |
| 9 | Nick Percat | Holden | 21 | 27'53.3396 | 4.5813 |
| 10 | Todd Kelly | Nissan | 21 | 27'53.7485 | 4.9902 |
| 11 | Jamie Whincup | Holden | 21 | 27'54.0400 | 5.2817 |
| 12 | S.van Gisbergen | Holden | 21 | 27'54.6691 | 5.9108 |
| 13 | Lee Holdsworth | Holden | 21 | 27'55.0765 | 6.3182 |
| 14 | Will Davison | Mercedes | 21 | 27'55.3275 | 6.5692 |
| 15 | David Wall | Volvo | 21 | 27'55.8228 | 7.0645 |
| 16 | David Reynolds | Ford | 21 | 27'56.0576 | 7.2993 |
| 17 | Tim Blanchard | Holden | 21 | 27'56.9516 | 8.1933 |
| 18 | Craig Lowndes | Holden | 21 | 27'57.2817 | 8.5234 |
| 19 | Jason Bright | Holden | 21 | 27'57.5297 | 8.7714 |
| 20 | Garth Tander | Holden | 21 | 27'58.1665 | 9.4082 |
| 21 | Ashley Walsh | Mercedes | 21 | 27'58.7360 | 9.9777 |
| 22 | A.Heimgartner | Ford | 21 | 27'58.9426 | 10.1843 |
| 23 | James Courtney | Holden | 21 | 28'00.8670 | 12.1087 |
| DNF  | Fabian Coulthard | Holden | 0 |   |   |
| DNF  | Scott McLaughlin | Volvo | 0 |   |   |