Subscribe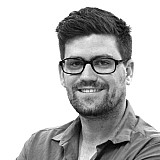 James Moffat admits he is disappointed with how his first season with Volvo has started, but says he is confident that he and the team can turn things around.
Moffat was one of the big winners of a frantic silly season, switching from Nissan Motorsport to partner Scott McLaughlin at Volvo for 2016.
But the dream move hasn't got off to a dream start; Moffat currently sits 19th in the points, has a best finish of P15 from seven races so far this season, and has been out-qualified by McLaughlin in all four qualifying sessions that have taken place in 2016.
"Without doubt, I'd be lying if I said I wasn't disappointed with how it has started," Moffat told Motorsport.com.
"The Grand Prix weekend was a little bit different in terms of some racing incidents, getting hit and bending steering arms – which happens when you're down the back. Nobody wants to be down there, but sometimes you end up down there. That's part of racing."
Focus on comfortability
According to Moffat, some the teething problems he's experiencing relate to getting used to the S60, a very different car to the Altima he raced for the last three seasons.
"I've been saying that it's quite a bit different to what I'm used to, and that's what I feel," he added.
"I guess there is an element of adapting to the car, and maybe also exploring some things that will help adapt the car to me as well.
"It's one of those things that will take time, and in this game you don't have that much time."
Light at the end of the tunnel
The good news, Moffat says, is that there is progress. For example, in Race 3 at the AGP Moffat set the fastest lap-time outside of the three Triple Eight cars.
"That's what was encouraging at Albert Park, particularly in Race 3. We tried something with the car and it seemed to work," he said.
"We were running around on our own, but lap-time wise we were a lot more competitive than what we've been. We have to keep chipping away at it.
"I guess we feel like we made a bit of progress with direction on set-up, and getting a bit more comfortable in the car. I can't wait for Tasmania to be honest, because it's another opportunity to keep on improving.
"The main thing is, if we stick together we'll be fine. There's a great team behind me, Garry has been fantastic as has everybody else. I have to be confident that we'll get there."