Subscribe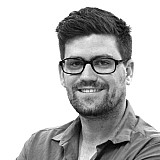 Scott McLaughlin says today's dice with Nick Percat during the Porsche Carrera Cup Pro-Am will do his confidence good, as the Volvo driver endures a tough V8 Supercars season.
The Kiwi has struggled in V8s this season, a combination of his S60's mechanical woes, and driver errors such as his spin during qualifying at Winton. He is currently 16th in the points, eight places behind where he was in 2014.
But today he was able to mix it at the front again, finishing second alongside Stephen Grove in the Carrera Cup Pro-Am at Phillip Island and staging a thrilling battle for the lead with fellow V8 driver Percat.
According to McLaughlin,the dice with Percat will help re-build his confidence as he looks to get his V8 season back on track.
"That's what racing is all about. It was just good fun," he said.
"That was mad. I was that confident. I had lost a little bit of confidence over the season of V8 Supercars; you wonder 'have I lost something?' or 'have people got better?'
"It was cool just for me as a confidence booster to catch and pass Nick, and then pass him back again. It's a guy that I race day in and day out, so it was good fun."
A second Porsche Pro-Am race will take place at Phillip Island tomorrow.