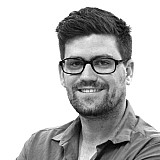 V8 Supercars driver Scott McLaughlin admits his off in qualifying was his own fault, and says he is "looking forward" to charging through the field from last place in race one at Winton today.
The Volvo driver went off mid-way through the first qualifying session, beaching his S60 at turn three which led to the stewards red flagging the session.
Under V8 Supercars rules he was then unable to take part in the remainder of the session, and given he hadn't set a time to that point, will start today's first 60-kilometre race from last position.
"I just made a mistake," he admitted to Motorsport.com.
"I was well within my limits, I didn't brake too deep, but it instantly locked up and I went off.
"Unfortunately it was a place where there isn't much room for error. I was locked up and I had to go straight because I was locked up, and that screwed me.
"If it happened somewhere else it would have been no drama, but it's the story of my life at the moment."
Rather than being too down on the situation, McLaughlin has vowed to make a charge through the field – and even says he's looking forward to it.
"I've just got to get out there and drive as hard as I can, and make the most of what I've got," he added.
"I'm actually looking forward to it; it's not often you get to start from last with the pressure off. I'll get out there and give it some – it will be good."