Get alerts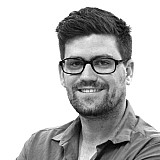 Scott McLaughlin says there are no issues between he and DJR Team Penske teammate Fabian Coulthard, despite the fact they are locked in a tense Supercars title fight.
The Penske Fords won a race each in Darwin over the weekend, but with McLaughlin finishing second on Saturday, and Coulthard just fourth on Sunday, the younger Kiwi was able to make an overall gain in terms of points.
Despite there being just 10 points splitting the pair now, Coulthard still leading McLaughlin, the #17 Penske Ford driver is adamant that the title fight isn't putting any strain on their relationship.
"I feel like me and Fabs are working together the best I've ever had with a teammate," said McLaughlin.
"I'm really enjoying the battle that we're having, and I think everyone in the team's really liking it too – the #12 and #17 boys are having a bit of a competition.
"It's a really cool dynamic in the team and I'm just excited to just keep pushing within the boundaries.
"We can race hard but fair and no contact. So far I feel like there's been no issues at all."
McLaughlin added that Sunday's win in Darwin was an important one as he looks to win his first Supercars title in what is his first season with the Penske squad.
"Any time you get a win is maximum points and ideal for the championship, and I feel like we're close now," he said.
"I's great to have a one-two with the team. It's early days, but it's good for the morale back at home in Stapylton and hopefully we can carry this on towards the end of the year."
With a fourth and a second from the two races at Hidden Valley, Jamie Whincup is still right in title contention as well. The Triple Eight driver sits just 16 points behind Coulthard, despite having not won a race all season.
While close to the Penske pair on points, Whincup reckons he's not worrying about whether or not he'll be able to bag a seventh title this season just yet.
"I don't think any of us are looking at the championship, we're just trying to go as fast as we can and trying to win races," he said.
"It's tough out there, but all in all we made a gain. We made a good gain from Winton, which is the main thing.
"We'll try to do the same for the next one."