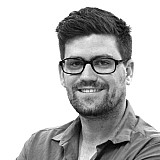 Volvo V8 Supercars star Scott McLaughlin says he is confident heading into the three endurance races, given how quickly co-driver Alexandre Prémat re-adapted to the car at yesterday's test.
The team was part of a multi-team, pre-Sandown 500 test at Winton yesterday, which meant Europe-based Prémat had his first chance to drive the S60 since last year's Gold Coast 600.
Both McLaughlin and Prémat left the test impressed with both the car's pace, and how quickly the Frenchman got back up to speed.
"Straight away Alex was comfortable, and within 10 to 20 laps he was basically on my pace," said McLaughlin.
"Today our main focus was to see that he was comfortable with the car and I think we've got a really good shot for the enduros.
"We just got to push on and make sure our car is good. We tried a couple of things that we will have at Sandown and I think we made an improvement. There are big things to come and I am really excited."
Prémat added that, despite an almost 11-month break from driving a V8, he felt like he'd been doing it all year.
"It is like I never left V8 Supercars because I jumped in the car and bam, with the lap times, which was pretty good," he said.
"It was super fast, I was as quick as Scotty, so I'm pretty happy with that! I'm looking forward to Sandown and to be racing… it feels like I never left the car."
Wall happy with Pither progress
The crew on the #34 Volvo were also left impressed by Monday's running, with regular driver David Wall happy with co-driver Chris Pither's pace on his long runs.
"A good test today and good to get Chris some miles in the car, which is what the day was about," Wall said.
"We gave him the runs on proper tyres to make sure that he is comfortable, and some long runs to make sure that he was comfortable over them.
"All in all we are in good shape heading to Sandown. I am looking forward to getting there as it one of the team's home rounds, but also one of the biggest events of the year."