Get alerts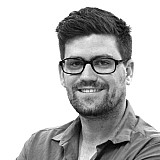 Craig Lowndes says the controversial decision to run wets on James Courtney's car during a dry race at the Winton V8 Supercars round will pay off later in the year.
In the second of two 60-kilometre races on Saturday evening, Courtney lost control of his Holden Racing Team Commodore on the run to the first corner, taking out team-mate Garth Tander in the process of running wide. 
With his race in tatters after serving a drive-through penalty, Courtney pitted again to swap his fresh hard-compound slicks for a set of wets, despite there being no threat of rain, in a bid to keep the green rubber in his tyre bank for future events.
While controversial, Red Bull Racing Australia driver Craig Lowndes says he expects the move to pay dividends for Courtney later in the season – at the expense of those who made it to the finish of the race on slick tyres.
"It's unfortunately just the way it is," Lowndes said.
"We came [to Winton] with no softs to try [in practice], because we had nothing in the bank. We used ours for Perth, which almost proved to be a good thing.
"We're juggling thing to make things work. With Courtney's scenario, and even Tander's one, they'll have better hard tyres somewhere later in the year to be able to go an practice with.
"It's what it is. It's the rules, and we'll live by them. But the tyre bank does favour people who don't finish races.
"By the same token, you want to win races, you want to be up the front. If it means you don't have a tyre bank, but you're winning races, I'd be happy with that too."
Courtney decision "sensible"
The very idea of fitting wet tyres for a perfectly dry race may seem absurd, but as Lowndes explained, it was actually quite a sensible decision given the current tyre regulations.
"I think they were quite sensible, in a sense," he added.
"Look at the scenario; he had an accident, he was at the back of the field, and he wasn't going to gain anything by circulating with a good tyre. He saved his tyres to try and get that win on Sunday… which obviously didn't come either.
"Nobody goes out on the grid on a set of wets thinking 'we're going to save tyres'. He went out there, properly, and tried to start the race. He screwed up, took his team-mate out, and then the team decided to go to wets.
"You've got save everything you've got; they tried to put all their eggs in the basket for Sunday, and it didn't work.
"But it will pay back somewhere through the year, when we go to another track where we're struggling with tyre condition and they've got better ones to play with. It's not now that it will help them, it will help them months down the track when they've got to re-use them for another race. We're all struggling for tyres."
Winterbottom sticks to his guns
Lowndes' comments echo those of Mark Winterbottom, who was particularly vocal on the subject following Saturday's race.
The Winton winner said that while he understood why HRT made that call, it made the sport "look silly" – a view he later reinforced.
"It's like the AFL playing half a game, and then they get a soccer ball out because their footy goes flat," Winterbottom quipped.
"That looked silly. I get the business side, I get the driver's side. We always want good tyres.
"But you don't want to be sacrificing races, you want to try and win every one, so I'm not a big fan."