Get alerts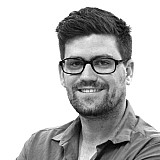 Craig Lowndes says Mark Winterbottom is overreacting to the pair's on-track clash during Sunday's V8 Supercars race at Sydney Motorsport Park, while Prodrive says a penalty is a must.
The pair made contact at Turn 2 during Sunday's 200-kilometre race, which sent Winterbottom off the road. 
While the stewards deemed it to be a racing incident, Prodrive Racing Australia lodged a post-race protest against Lowndes, the hearing of which will take place at Sandown.
Winterbottom also hit out on social media on the Sunday evening, question Lowndes' intentions.
"He is just trying to make a mountain out of a molehill," Lowndes told the official V8 Supercars website.
"It's obviously got a lot of interest because there have been a lot of retweets and other people getting involved in it all.
"I haven't spoken to him and he hasn't spoken to me but if he wants to go on with it on social media that is his call.
"No it wasn't intentional. I don't go around hitting people off-track. That's just part of motor racing, sometimes you get the good side and sometimes you get the bad side.
"We have all been there and sometimes you have to accept decisions that you don't like regardless of whether you think they are right or wrong.
"I have been in there many times in the past where think I have been in the right and [the DSO] has thought and seen it another way. And you have to accept it unless you go to the stewards and Prodrive obviously don't want to accept it.
"That's their choice."
Both sides have something to play for in the investigation; if Lowndes is found guilty, a points penalty is likely. However, if the stewards deem there was no wrongdoing, then PRA's $4000 protest fee won't be returned.
Prodrive: He can't get away with it
Prodrive, meanwhile, has a very clear view on the matter; Lowndes has to be penalised. Speaking to v8supercars.com.au team boss Tim Edwards said the team shouldn't have needed to protest.
"It's the principle," Edwards said.
"You can't get punted off the track and someone just gets away with it scot-free.
"It's not the way we operate. If all of a sudden you can bump and run and punt people off and they lose four, five, six places then that's something we have not tolerated in the past.
"At the end of the day we had no intention of protesting it, it's only the fact that nothing has been done about it.
"Our grievance is probably more with that than what Craig actually did. To us it was a no brainer that Craig would get a points penalty and we would all move on."