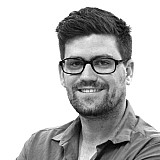 Craig Lowndes has no doubts that his Triple Eight team-mate Jamie Whincup will fight back after a second disappointing V8 Supercars round in a row.
While Lowndes had a decent weekend at Winton, bagging a 12th and an eighth on Saturday followed by a well-managed third on Sunday, his Triple Eight team struggled for pace compared to the Prodrive Falcons and the Nissan Motorsport Altimas.
Lowndes' team-mate Jamie Whincup bore the brunt of the lack of car speed, qualifying just 22nd for Sunday's race.
He did manage to drag a 10th place result out of the race after a measured drive, but was clearly left frustrated with a lack of speed across the weekend, not dissimilar to what he faced in Perth a fortnight ago.
"Unfortunately we just lacked pace again," said Whincup.
"We really struggled on the hard tyre and couldn't make up any spots at the start so we were just in the pack.
"Without any pace we just hung in there and hung in there Thankfully we had a little bit of tyre life compared to the other guys who were driving pretty hard at the start of that 30-lap stint after the safety car.
"We're still well below our average level, but if we had pace we could have done a lot more in that race and unfortunately it just wasn't there again."
Lowndes predicts fightback
While Lowndes has been the better of the two Triple Eight cars for the last two Sundays in a row, he said following Winton's feature race that he expects his team-mate to get the car sorted and get back on top.
"Yeah, Jamie is struggling a little bit," he said.
"I don't know if he's made mistakes, but he just hasn't had the car that he's probably wanted.
'But, you know, he'll bounce back, there's no doubt. He's pretty determined to change the results."
Title fight wide open
With Prodrive experiencing an upswing in form at the moment, and Brad Jones Racing's Fabian Coulthard consistently collecting points, Lowndes says the title fight is wide open at the moment – and could well stay that way right up until the season finale in Sydney later this year.
"We have had four rounds of the championships, we have had four leaders of the championship, so it just shows how competitive the championship itself is," he said.
"There is no breakaway at the moment, and I think that will be case all the way to December. Jamie will just have to chip away, and Grant (McPherson, Lowndes' engineer) and I are chipping away as well.
"Our side of the garage has been pretty consistent, I think. Winton this weekend was one of our worst, but Clipsal wasn't too bad, in Tasmania I screwed up the Sunday, over in Perth we had some good results; so from our side, I'm pretty happy with where I'm at."