Subscribe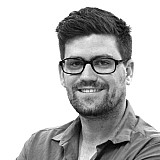 Craig Lowndes may be heading in to this weekend's Gold Coast 600 focussed on winning the Pirtek Enduro Cup, but he admits he'd love to be having a go in one of the Stadium Super Trucks as well.
The high-flying trucks will once again play support for the V8 Supercars on the Gold Coast, having made a debut appearance on the V8 bill at the Clipsal 500 earlier this year.
The spectacular series caught Lowndes's eye in Adelaide, and he says he'd happily put his hand up for a drive should the opportunity ever present itself.
"To have the Stadium Super Trucks back is great, we saw them at the Clipsal 500," Lowndes told Motorsport.com.
"I'd love to have a go of one! If Robby Gordon were generous to let me loose in one, I'd definitely put my hand up.
"To have them back in Australia showcasing what they can do is quite amazing, talking to Matty Mingay and a few others, you start to appreciate what the trucks go through and absorb.
"They put on a great spectacle, and I think there's no doubt that they will do it again on the streets of the Gold Coast.
Today, it was announced that Matt Brabham has bagged himself a drive in one of the trucks, joining stuntman Mingay and V8 Supercars veteran Paul Morris in the field.
Focus on Enduro Cup
While Lowndes may have Stadium Truck aspirations, his focus this weekend will be 100 per cent on winning the Pirtek Enduro Cup. Lowndes and Steven Richards head in to the final two races of the long-distance season fourth in the Cup points, 144 behind leaders Mark Winterbottom and Steve Owen.
"You always want to do well in the Enduro Cup, it's sort of like a championship within a championship," Lowndes added.
"Knowing you can become the enduro kings, I think it's really important to finish off these races very strongly.
"It's quite amazing, you come out of Bathurst and straight onto something completely different on the Gold Coast.
"The Gold Coast event is tough, it's very narrow, it's tough to pass on, and the temperatures are going to be extreme
"The kerbs always tend to cause a bit of controversy, they can hurt the car very easily, it's one thing you have to be very mindful of.
"By the same token, you need to use the kerbs as much as you can for lap times, and if you come back to the pits with your side mirrors still on, you're not trying hard enough."