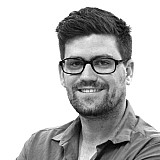 Craig Lowndes says he's happy with his Saturday at Homebush, despite not scoring enough points to take the V8 Supercars title fight into tomorrow.
Lowndes's title chances took a massive hit during qualifying for today's first race, the Triple Eight driver making a crucial error on his final lap which left him 25th and last on the grid.
He managed to do enough in Race 1 to take the title fight to Race 2, but Mark Winterbottom was ultimately able to do enough in the second 125-kilometre race to secure the title.
"It was always going to be a tough day today from where we qualified. But I'm proud that we managed to fight back," said Lowndes.
"We had a good run in Race 1; it was a great challenge. In today's second race we tried to jump in front of Frosty, but he had a good car today and congratulations to him and the team for winning the drivers' championship.
"I'm happy with today. As I said, where we started and where we finished, we made great progress. I'm looking forward to tomorrow and finishing off the year on a high."