Get alerts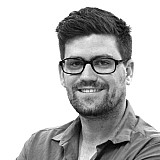 Craig Lowndes says he would have loved to have racked up his 100th V8 Supercars race win at Barbagallo Raceway on Sunday, but that he had to accept Will Davison had the better rubber at the end.
The Red Bull Racing Australia driver went into the Barbagallo Raceway weekend confident of taking his 100th series win at the very circuit where he won a record-breaking 91st race back in 2013.
And he came painfully close to turning his dream into a reality, leading Sunday's 200 kilometre feature races until there was just five laps remaining. It was at that point his soft tyres started to lose grip, giving Will Davison the opportunity to swoop into the lead and take a shock win for Erebus.
"I would have loved to have scored the 100 here, it would have been fitting," Lowndes said.
"I was confident coming in, but credit to Will and the Erebus guys."
Forced to accept his fate
Lowndes said that, while the end of the race was so close, he had no opportunity to fight off Davison thanks to the nature of the soft tyre.
"I thought we were managing the tyre reasonably well," he explained.
"I pushed a little bit hard to get to the front, but once we got to the lead I just managed the gap. I wasn't silly, I just wanted to look after the car and the tyres.
"With five laps the go the car just started to slide in turn one, and I knew at that point.. the soft tyre doesn't recover. I had the front bar full hard, the rear bar full soft, and I still didn't have enough understeer to balance the car off.
"I tried to go deep [into turn six], slid sideways, then had no drive to try and do the undercut.
"We had to accept [that Will would get past]. We all know what the soft tyre is like; you have to manage the tyre, once it falls of that cliff there is no getting it back. With five laps to go it just started to slide, I was hoping maybe Will's were doing the same.
"For me, I was going to try and make it difficult with what I had, but I don't think it was too difficult for Will with us sliding down into the bowl. We had nothing to fight with."
Disadvantage turns into advantage
That Lowndes was in the fight at the end did need require a little bit of luck; it was a safety car period sparked by Ash Walsh's off at turn six mid-race that, strategically, took the dominant Prodrive Racing Australia cars out of the picture and brought Lowndes into it.
Lowndes later admitted that he and his team did actually try re-using soft tyres in Friday practice, but that the car wasn't looking after them well enough to risk it in the race. Had that not been the case, and he had started on the softs like the PRA pair, things may have gone differently…
"We tried it on Friday and there was no way we could contemplate running the softs twice, we could only run them once," he said.
"We weren't the fastest, we were pegging away at the Prodrive guys. But our car over this long race was pretty good.
"We didn't have the speed, but we had the consistency – just not quite for those extra five laps."