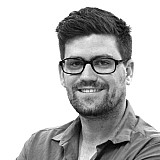 Craig Lowndes is confident that he and Triple Eight will have a stronger second half of the year, and will be more than capable of taking the fight to form team Prodrive at the business end of the season.
While Triple Eight has struggled across the last couple of championship rounds in Perth and at Winton, Lowndes has defied the team's form and managed to keep himself well and truly in the title fight.
He is currently just 12 points behind series leader Mark Winterbottom, and says he expects Triple Eight to bounce back hard at circuits that traditionally suit the T8 Commodores better, such as the upcoming Darwin round.
"I'm really excited about the [rest of the] season," said Lowndes.
"We know that we're going to go to some tracks like Darwin, Queensland Raceway and Sydney Motorsport Park that are going to suit us more.
"So we're really looking forward to the second half of the season.
"There's no doubt that we were going to struggle at Winton, we have in the past, but I think we came out of it in reasonable shape.
"I would have loved to have still been in the lead of the championship, but to be only 12 points behind Winterbottom, I think we're still in a very good position."
Engineer relationship proving crucial
According to Lowndes, his sparkling form during a comparatively tough time for the team is largely down to the relationship that he and his new engineer, ex-Prodrive tech guru Grant McPherson, have quickly been able to forge.
"The car has been working very well, and Grant has been fantastic too," said Lowndes.
"He and I have clicked very well together, and his mentality, the way that he thinks about the car is definitely the way I like the car to be."