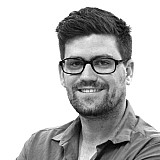 Craig Lowndes says this weekend's Phillip Island round will come down to who is driving the best, with the circuit rewarding ability and confidence.
Lowndes heads into the Phillip Island round well and truly in the title hunt, sitting 240 points behind Mark Winterbottom with 600 still on offer from the last two rounds.
While the long, fast corners of the Phillip Island track are expected to suit the Prodrive Racing Falcons, Triple Eight's Lowndes says it's the sort of circuit where the driver can genuinely make a difference.
"There's no doubt that you need a well-balanced car, and you need a lot of confidence – especially to go through the Hayshed flat," Lowndes told Motorsport.com. "You also need confidence when you go into turn one at over 200km/h and carry the speed
"But you also need a driver that has good knowledge of the circuit to be able to maximise the speed from the car.
"It really is a driver's track; you really can grit your teeth and get a benefit from it, and other circuits you go to it mightn't be the case.
"It's fast and it's flowing, and you can still get a lap time benefit if you grit your teeth, and just try to carry a bit more speed through the Hayshed or over Lukey Heights.
"Phillip Island is a circuit where a pure driver will have a lot of fun."