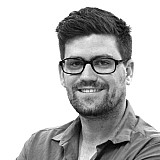 Craig Lowndes is confident that Triple Eight is close to making a breakthrough in the hard tyre pace issue that have given Prodrive a head start on the 2015 season.
Lowndes enjoyed his most consistent round of the season at Queensland Raceway, finishing on the podium in all three races, and even beating title rival Mark Winterbottom to second place on Sunday afternoon.
While Prodrive continued to set the pace, Lowndes says that the gap has been closed is a clear sign that Triple Eight is quickly improving its form – and he predicts that a major breakthrough in car speed is not far away.
"We're looking around the corner," he said.
"I don't know if we've turned it, but we definitely improved the car over the course of this weekend. There's no doubt.
"Our hard tyre pace was always the problem, and we managed to pick that up.
"Our soft tyre has always been good, but we haven't got the durability out of it. I think we've now proven that we can do multiple laps now, and follow [Prodrive] through a race distance.
"It is improving, there's no doubt about that. Grant (McPherson, Lowndes' engineer) and I are working really hard, we've got some things that we want to try again for Sydney Motorsport Park. It's looking good."
Lowndes is still 256 points behind points leader Winterbottom.