IRWIN Racing
IRWIN Racing's Lee Holdsworth is aiming for a top step podium result in New Zealand this weekend.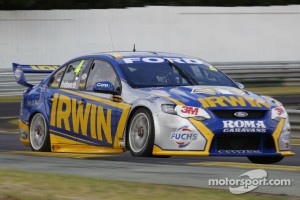 Lee Holdsworth
Having finished second behind team mate Shane van Gisbergen at last year's ITM400 on the streets of Hamilton, Holdsworth is again aiming for a podium but would like to challenge for the outright win.
Holdsworth is getting more and more confident with his new IRWIN Tools Ford and has been able to push it harder in recent races.
With a worst result of ninth this year, and sitting fifth in the championship race, Holdsworth goes to Hamilton looking forward to racing on what is one of his favourite tracks.
His results reflect this, with four top five results, a third place in 2009 and a second in last year's Sunday race.
The ITM400 Hamilton begins with practice this Friday. There are two 200 kilometre races over the weekend, one on Saturday and one on Sunday.
What IRWIN Racing's Lee Holdsworth had to say:
"Over the last four Hamilton events I've had several top five results, a third and obviously finished second to Giz (Shane van Gisbergen) in the Sunday race last year. I love that type of track, I like getting the most out of the IRWIN Ford and the most out of myself, pushing everything to the limit. I have high expectations, I'd love to be on the podium again or push for the win.
"I think Shane will be difficult to beat, particularly this year as he's stepped it up again. He had the win in the Sunday race last year but I was pushing him all the way to the end to finish second. Given the car I was driving last year I think I can get an even better result in the IRWIN Tools Ford. There's no reason why if he's quick that I won't be. Actually I think all three of the SBR cars will be up there, we could all challenge for the win.
"For me this season, it's not a matter of if I can get a win its when. Once I have got my head around the car, and the quicker I can do that, the closer I'll be to challenging for race wins. It'd be nice to think this will happen in New Zealand, we'll see."
What IRWIN Racing's engineer Brad Wischusen had to say:
"We've been very competitive on the street circuits this year and Lee (Holdsworth) is very good on them as well, it's one of his strengths, so we are going into the event with a high degree of confidence this weekend. Hamilton is quite similar to Adelaide with the kerb strikes, so we concentrate a lot on our dampers. Looking at last year you would have to say that the biggest challenge will be the weather, so you have to be prepared for everything. Our goal is to push ourselves so that we are starting the weekend with the ball rolling as we approach Saturday's qualifying. Friday practice sets your weekend up, if we are ready to go early in the weekend it generally means we will be competitive over the course of the event."