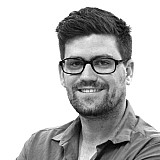 LD Motorsport owner Lucas Dumbrell says 2015 is proof that his squad works best when running a two-car V8 Supercars programme.
The team was formed a single-car outfit back in 2010, expanding to two cars in 2013 with Dean Fiore and Scott Pye as drivers. But it was a difficult season for the Melbourne-based team, Fiore finishing 24th in the championship, while Pye was just 27th.
For 2014 LD Motorsport reverted back to a single car, Russell Ingall finishing 18th in the championship, before re-expanding to two cars with Nick Percat and Tim Blanchard for the 2015 season.
The team is now enjoying an improved spell as a two-car outfit, with Percat currently 15th in the standings and Blanchard 21st. And according to Dumbrell, the difference between 2015 and 2013 is that this time around his squad is better prepared.
"We had a go at it back in 2013, and we were really underprepared," he told Motorsport.com.
"We didn't get the most out of what we had, we wasted a few opportunities. We went back into a regrouping phase last year with the single-car thing with Russell, and it worked out pretty well.
"We started having decent results again, maybe we didn't make the most of every opportunity, but it was better.
"At the end of last year it came to a point where we kind of had to go back to two cars. We didn't look at it as a negative, it was a chance to build, and with Barry (Hay, LD's team manager) on board we've been able to make some massive gains in a lot of areas.
"Now we've got more people in the shop than we've ever had, and we have so many people with a wider set of skills. They can get stuff designed and built in-house, because we have that skill level with out staff.
"That's what makes the difference."