Subscribe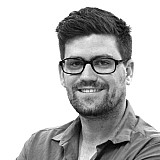 Jack Daniel's Nissan driver Rick Kelly will sport a special 'Zero Sugar' livery at next weekend's Bathurst 1000.
Kelly's Altima V8 Supercar will be decorated in a matte black base, with red to be used on a Jack Daniel's Racing livery for the first time in the brand's 10-year involvement in the sport.
"I've got to say I have been a big fan of the livery on my car this season," said Kelly.
"We used some very interesting vinyls from Graphic Art Mart, with some specialist bushed aluminium, and it's really been a personal favourite JD livery of mine.
"In changing it, we really had to ensure we were changing it to something that was an improvement, which was no easy task.
"What the team has come up with is pretty exciting actually; the base is matte black, which stands out really well, and there's a bit of red thrown in there too, which we haven't seen it on a JD car before.
"The technology in vinyl has really come a long way in the past 10 years, so it really is a nice matte finish.
"It looks fantastic, I think it looks angry, for me inside the car, you want a livery that looks nice and intimidating, and I think we have really been able to achieve that with this new look."
Kelly will share the #15 Altima with David Russell.