IRWIN Racing's Lee Holdsworth has ended his tough run in V8 Supercars qualifying with a strong performance at the Yas Marina Circuit in Abu Dhabi.
In a unique qualifying format that saw the one 20-minute session set three separate race grids, Holdsworth will start fifth in Race #1, fourth in Race 2 and ninth in Race #3.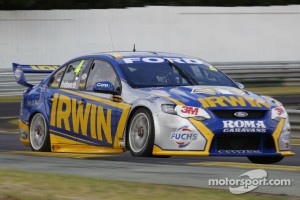 Lee Holdsworth
It had been 11 individual races (Hidden Valley - Darwin) since the IRWIN Racing Ford had started inside the Top-10 and a fourth place grid position equals Holdsworth's best aboard the IRWIN Ford (Barbagallo Raceway - Perth).
In a sign of strength, Holdsworth's Stone Brothers Racing team-mates Shane van Gisbergen and Tim Slade also qualified well inside the top-10 for each race. Qualifying is even more important in Abu Dhabi with each race only lasting 12 laps and no need for pit stops.
Crews will use soft tyres in two races and the harder Dunlop rubber in the other. Choice will be left up to the teams for which race they choose to run the harder tyre.
Saturday's action will include two of the three races with coverage on 7Mate from 5pm Australian Eastern Daylight Savings Time. Coverage will include qualifying, Race #1 and LIVE coverage of Race #2.
The time difference between Australian Eastern Daylight Savings Time and Abu Dhabi is seven hours.
What Lee Holdsworth had to say:
"I'm absolutely stoked with getting back in the ten and to be starting all three races in the ten is fantastic," said Holdsworth.
"It's been 11 races since we have qualified up there and it is such a relief. I'm so stoked for my boys and my race engineer Brad (Wischusen) did an awesome job giving me a great car for qualifying."
"Obviously it puts us in a good place for the races and we should have a good shot at the podium. We haven't been in a position like this for a very long time and it equals my best starting position for the year."
"This track is fantastic, I love driving it but it's one of those circuits that you can't really attack because the tyres go away so quickly because of the heat."
"I think the races will be really interesting and I think there will be a lot of aggression out there, and there will certainly be maximum attack. There aren't many people fighting for the Championship so everyone else is really just fighting for the win. I think it will be a hell for leather race."
Source: IRWIN Racing