IRWIN Racing
TWIN TOP FIVES FOR LEE HOLDSWORTH IN PERTH
IRWIN Racing's Lee Holdsworth backed up Saturday's best ever Western Australian result with a fifth place at Barbagallo Raceway today.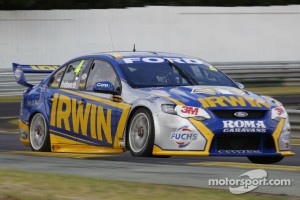 Lee Holdsworth
Holdsworth arrived in Perth with a best track performance of ninth and bettered that to leave with two top fives.
The IRWIN Tools driver finished fourth in Saturday's race and backed this up to qualify for the second race in fourth place – his best qualifying result of the season. Holdsworth maintained his fourth place through to the penultimate lap of the race when his shot tyres lost him a spot to Fabian Coulthard.
After the success in the first two races, the third and final 50 lap race was frustrating. A red flag in qualifying prevented a good starting place and then a safety car bungle by race officials dropped Holdsworth from inside the top 10 to 22nd place.
Despite missing out on his debut podium for IRWIN Racing, Holdsworth was thrilled with the performances which keep him well entrenched in the series top 10.
Heading to the next event sitting fifth in the V8 Supercars Championship, Holdsworth is full of confidence after eight top 10 results in 10 races so far this season and believes a podium result is not far away.
The V8 Supercars Championship continues at Phillip Island, Victoria in a fortnight's time.
What IRWIN Racing's Lee Holdsworth had to say:
"I've taken a lot out of this weekend, a lot of positives. The aim has been to finish top five and we've done that twice this weekend plus had another two top 10 qualifiers, including fourth this morning which is my best qualifying result of the year so far. We made some really good gains with the IRWIN Ford which stems from my knowledge of the set up and what it needs to run up the front. The aim is to keep improving and we did that this weekend. We are still ticking boxes which is great; we are still fifth in the championship and consolidated our position a little bit. I just keep looking forward to the next event, it's exciting."
What IRWIN Racing's engineer Brad Wischusen had to say:
"Races one and two were excellent; we've been aiming for top fives over the course of the year so we were thrilled with our fourth and a fifth place. I think we also picked up our performance in qualifying as well, so we are all really pleased with the weekend. We couldn't do much about the safety car mess in that third race, sometimes it happens, but you'd obviously prefer it didn't."