IRWIN Racing
LEE HOLDSWORTH NARROWLY MISSES PERTH PODIUM
IRWIN Racing's Lee Holdsworth has missed the podium at Perth's Barbagallo Raceway by an agonisingly close three-10s of a second.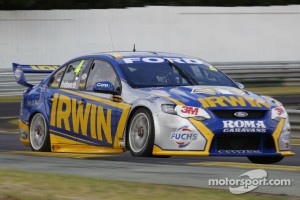 Lee Holdsworth
Despite this, Holdsworth's fourth place was his best result since starting with IRWIN Racing at the start of the season, his best ever result at Barbagallo Raceway and his highest finish since taking a third place on the Gold Coast in October last year.
Starting the seventh race of the V8 Supercars season in 10th place, Holdsworth was able to advance throughout the 120 kilometre race to battle in the top five with 15 laps to go.
He took advantage of a tangle between Garth Tander and Will Davison at the start of the race and a well timed, perfectly executed pit stop on lap 26 for soft compound tyres saw him jump two further places.
A wobble by his teammate Shane van Gisbergen in the closing laps of the race saw Holdsworth take advantage as he leapt into fourth place and he pushed Lowndes through to the end of the race.
Holdsworth was thrilled with the IRWIN Ford's performance and is looking forward to going at least one better in the remaining races of the weekend.
The result maintains Holdsworth's fifth place in the championship.
The Trading Post Challenge continues on Sunday with qualifying and two 120 kilometre, 50 lap races.
What IRWIN Racing's Lee Holdsworth had to say:
"It is a bit of a relief after yesterday because we were absolutely nowhere on the wet tyre but we put that down to using old tyres. Today to get another top 10 in qualifying and then my best result of the year with IRWIN Racing, fourth, I'm pretty happy; it's another solid top five. The Irwin Ford definitely had better pace than what I have had here in Perth before. There was a little too much understeer mid-corner to catch Lowndes, but that is something we can work on overnight. The positive signs are that I have a better understanding of what the car needs, I'm getting stronger in qualifying and we know that if we have some better qualifying results then the race results just come with it. We're looking good, today gives us plenty of reason to feel good about tomorrow."
What IRWIN Racing's engineer Brad Wischusen had to say:
"It was a little bit of a guessing game after qualifying, but we had good speed on the soft tyre, we maybe struggled a little bit on the hard, but strategy and everything pulled us through. It definitely gives us some confidence for tomorrow. The goal for the first part of the season has been to crack the top five. We are there now and we just have to push on towards the podiums tomorrow. Another box ticked and moving up in the points."