IRWIN Racing's Lee Holdsworth has completed the Abu Dhabi race weekend with an eighth place finish in the final 12-lap sprint at the Yas Marina Circuit.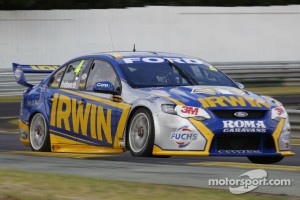 Lee Holdsworth
This result combined with fifth place in the opening race and eighth in Race #2, has seen Holdsworth climb from 10th to eighth in the championship standings.
Eighth place has become a habit for Holdsworth of late after he finished in that position at Sandown, Bathurst and the second race on the Gold Coast.
In today's race Holdsworth moved from ninth off the start to seventh during the opening lap. A Safety Car on lap #3 following a fiery accident involving Karl Reindler compressed the field and Holdsworth came under attack from Garth Tander.
Although Holdsworth was forced to cross the run-off area twice, Tander did get by the IRWIN Ford with three laps remaining. He then stuck to the back of Tander through to the finish.
The IRWIN Racing crew will next go racing at Winton Motor Raceway in central Victoria on 16-18 November.
Lee Holdsworth has moved to eighth in the V8 standings
What Lee Holdsworth had to say:
"I got a good start but the balance just wasn't there today so we didn't quite go in the right direction. I still ended up eighth which isn't too bad. The main thing is we are moving forward at the moment."
"After a few shocker rounds mid-year we're starting to climb back up the ladder in the Championship. We've moved from tenth to eighth this weekend so there are a lot of positives to come out of this weekend so now we just need to find some speed."
Source: IRWIN Racing