IRWIN Racing press release
Grand Prix V8 Qualifying Format Will Be Exciting: Holdsworth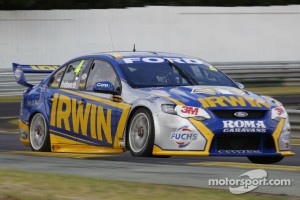 Lee Holdsworth
IRWIN Racing's Lee Holdsworth has dismissed the notion that the V8 qualifying format at this week's Grand Prix is a gimmick and believes it will be exciting for everyone.
During the Friday morning qualifying race, from the third lap the three lowest placed drivers on each lap through to lap eight will be forced back to the pit lane, leaving only the top 10 runners with five laps to go.
Where everyone finishes will determine the starting grid for the second V8 race of the weekend.
This is a format that has not been used in V8 Supercars before and promises to mix it up.
While those forced off the track will be disadvantaged at the start of Friday night's race, they will find themselves with better tyres later in the race which should help them come through the field during the closing laps.
While racing purists have described the format as gimmicky, Holdsworth believes it will make for an interesting weekend.
Holdsworth is hoping his IRWIN Ford will be as fast this weekend as it was at last year's Grand Prix, where it enjoyed two top three finishes.
The Australian Formula One Grand Prix starts on Thursday. The first V8 Supercars session begins at 1.30pm on Thursday while Formula One cars hit the track for the first time on Friday at 12.30pm.
What IRWIN Racing's Lee Holdsworth had to say:
"The qualifying format seems pretty interesting; I think it will be pretty exciting for the fans. I think every little change is always good; they've certainly mixed it up. The guys that get eliminated early will have better tyre life in the second race and will come through the pack a bit more, no one will want to be at the back of the field so they'll be pushing pretty hard. Being a non-championship race, drivers are going to go as hard as they can without trying to bin the car, it'll mix it up for the fans for sure. If you know you are going to be eliminated you are going to push pretty hard to get up into a better position, it'll make for some good racing. The IRWIN Ford had really good pace at the Grand Prix last year, so I am going there with high hopes. Hopefully if our weekend kicks off well, and we stay out of trouble, we will have a really decent result. I want to get plenty of race miles under the belt before we head to Tasmania so it's nice to have this round to get used to it. I go there with very high hopes; I'm looking forward to the Grand Prix."
What IRWIN Racing's engineer Brad Wischusen had to say:
"There are hard and soft tyres that we have to use across the races as well as the interesting format of the qualifying race. There will also be a lot of focus on tyre degradation in that qualifying race. I think anyone that starts down the back will have good tyres in that next race. The main focus for IRWIN Racing is to be as far up the front as we can so that we are not in any trouble in the first race. Basically we'll try and make a quick car, get up the front of the field and keep out of trouble. We do use the Grand Prix as a bit of test session but we'll still want to achieve some good results. We definitely want to run well inside the top 10 and then we'll be aiming at the top five as well. If we can add to that by getting some data off the car that will help Lee go quicker at Symmons Plains, then it will be a good weekend."