Lee Holdsworth has come from last to 10th during a hard fought Sunday V8 Supercar race at Winton Motor Raceway.
After grabbing his first podium of the season on Saturday, Holdsworth started 10th in today's 200km race. The IRWIN Racing Ford got a great start but was pushed off the track at Turn #3 by Alex Premat.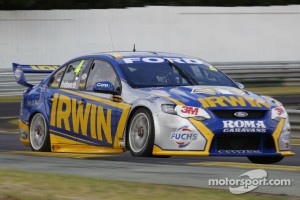 Lee Holdsworth
Dropping to the back Holdsworth then put his head down as he moved up the order.
With great work by his IRWIN Racing pit crew, and the right calls from the race engineer Brad Wischusen, Holdsworth was soon knocking on the door of the top-10.
He moved as high as seventh, before Jonathon Webb, Russell Ingall and Jason Bright, who were all on fresher tyres, forced their way past over the final laps.
On a weekend that netted third place on Saturday and 10th place on Sunday, plus a strong qualifying performance (sixth on Saturday and 10th on Sunday), Holdsworth and the IRWIN Racing crew head to the final round in Sydney with the goal of completing the season on an even bigger high.
What Lee Holdsworth had to say:
"We have come on leaps and bounds this weekend," said Holdsworth.
"We have found more speed in the car and most importantly we have a better understanding to what the car needs to be fast. To be back up fighting well inside the top-10 in qualifying and races is a great feeling.
To have my first podium for IRWIN Racing is really an awesome feeling and we have consolidated our position in the championship.
I'm looking forward to the final round at Sydney as I know after this weekend we have shown that when we start towards the front, we can finish right up there."
IRWIN Racing