Get alerts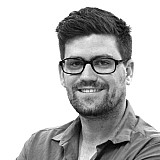 Chaz Mostert held off points leader Scott McLaughlin and a hard-charging Shane van Gisbergen to secure his second Supercars win of the season at Queensland Raceway.
There were contrasting fortunes for front-row starters McLaughlin and Mostert; while the Prodrive Ford made a blinder of a jump and bolted into the lead, McLaughlin was tardy off the line and dropped back to fourth, behind Jamie Whincup and Fabian Coulthard.
The foursome ran effectively nose-to-tail across the first stint, points leader Scott McLaughlin at the end of the train but unable to make a clean pass on teammate Coulthard. On Lap 11 DJR Team Penske made the call to pull McLaughlin out of the pack, bringing him in for his first stop.
A lap later Mostert and Whincup hit the lane together, the Triple Eight driver jumping Mostert by taking on slightly less fuel, while the pair both emerged back in front of McLaughlin.
Coulthard ran the longest of the front-runners in the first stint, waiting until Lap 18 to make his first stop. He took on more fuel than anyone else in the top four as well, which put him not just behind McLaughlin but also Nick Percat as the stops shook out.
On Lap 31 Coulthard restored order at the top by slipping past Percat into fourth place, 12.6s behind the leader but with a shorter second stop ahead of him.
The second round of stops for the leaders kicked off on Lap 35, when both Whincup and Mostert dived into the lane. This time it was Mostert that needed a little less fuel, and it made all the difference. Whincup was forced to roll out of the throttle as he re-joined the fast lane on the way out of the pits, Mostert taking over the effective lead.
McLaughlin responded two laps later, but having dropped to just over four seconds behind the leaders across the second stint he popped back out in third spot.
Again Coulthard stayed out, but began to lose time as he ran out of tyres. On Lap 40 he made his second stop, and even with less fuel to take on came out 10 seconds behind his teammate in fourth spot.
Mostert quickly established a small gap, leaving Whincup and McLaughlin to squabble over second spot. That battle came to a head on Lap 49, the Penske Ford barging past the Red Bull Holden at the last corner.
On Lap 54 the race was thrown a curveball when the Safety Car was called out to clear some debris, putting McLaughlin and co within striking distance of the leader again.
However it wasn't McLaughlin, or even Whincup, that posed the biggest danger over the nine-lap sprint to the flag. Shane van Gisbergen, running fifth after making his second stop on Lap 43, had the tyre advantage – and he used it well.
On Lap 60 he passed Coulthard for fourth, and two laps later he was by Whincup for third.
Thankfully for the top two that was as far as he could go, Mostert winning by a little under a second while van Gisbergen finished parked under McLaughlin's rear wing in third.
"I was a bit annoyed at the Safety Car, the lap before I was driving around and there wasn't that much debris around," said Mostert.
"I knew some guys behind had fresher tyres. I didn't expect to hold on after that safety Car, but I put my head down and did what I had to."
Van Gisbergen's late charge meant Whincup was demoted to fourth, putting him 129 points behind McLaughlin in the title fight. Coulthard was fifth, while Craig Lowndes capped off a positive weekend with a sixth.
Tim Slade, Cam Waters, David Reynolds, and Mark Winterbottom rounded out the Top 10.
There were whiffs of tyre dramas throughout the race as well. Will Davison suffered two front-left failures before parking his Tekno Holden, while Percat, Garth Tander, and James Courtney had dramas late in the race as well.